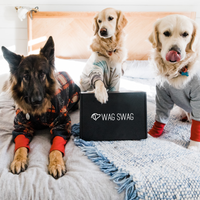 MAKE YOUR DOG'S DAY!
Every one of our boxes are jam packed with value, love and care, containing treats, toys and accessories.
All items have been thoughtfully paw-selected and approved by our Hungarian Vizsla Connie here at Wag Swag HQ.
Spoil your best furry friend with a box today. Woof!
Shop Now
SAVE TIME
Searching for quality treats and products for your dog can feel impossible.
We are here to save you time and frustration. We have done the research and sourced healthy, natural and premium products from Australia, New Zealand and the world.
Say hello to more quality time with your dog!
treat your woofer
ENTERTAIN YOUR DOG
The health of your dog is so much more than what food you feed them. Keeping your dog happy, healthy and entertained is our #1 goal.
Wag Swag boxes feature the tastiest natural treats, and keep your pupper mentally stimulated too.
SHOP WAG SWAG
SAVE MONEY
Having a Swag Box arrive at your door will save you money! We pack and deliver a complete box of high-quality dog products for your dog at the most reasonable price you can get.
With our flat rate shipping of $9.95 Australia Wide, we make it quick and easy to spoil your best furry mate.
SPOIL MY DOGGO
Golden Swag (now Wag Swag) is love in a dog box. The box felt like it has been packed by somebody who not only really loves dogs, but really loves my dog. This box just felt warm and filled with personality and care.

Amanda Yeo, Lifehacker.com.au
My Chester is a happy customer - he loved his box! Full of high quality treats and toys. His new Kong elephant toy is now his all time favourite! You can tell a lot of thought and care was put into choosing what went into the box. 10/10 doggos would recommend.

Will.K
My dog was over the moon with his box of treats and toys. His new bow tie is super adorable! I love how special you make everything. Theo has food allergies so we got a custom treat with a note saying "especially for you, Theo x". Love your boxes!

Eliza.M